2012 USAT National Championship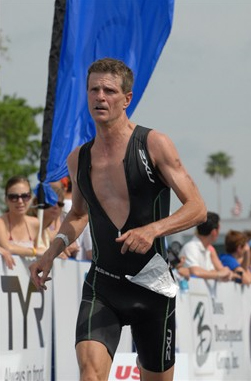 August 18, 2012
I'm at the bottom of a new age group this year and it's always something I look forward to as it's my chance for a decent finish at a national caliber race. When they announced Nationals would be in Burlington in 2012 two years ago, I knew I'd be there. I've been winning my age group locally by 10 and even 20 minutes this summer but I knew that Nationals would be a whole new ball game.
The down side of aiming for one particular race for two years is I was putting a lot of pressure on myself. I got it in my head a top-10 placing was a possible if I had a perfect day and was a little lucky. There are a lot of ways to screw up and loose a critical minute or two and my sub-conscience apparently was hard at work worrying about this even though I have a pretty good track record for not screwing up my races. I had very restless sleep for two nights leading up to the race draining me of some of my much needed energy.
The reconnaissance trip I made last year really helped make this year much easier in knowing the race course and the logistics of the whole weekend. The one downside was, I think (as it turns out, for good reason) I got a little psyched out by the sub-par swim I had last year. So, I worried about a swim course I didn't like – I worried about how well I'd be able to run with the steep hill that seemed to take the steam out of me last year and for good measure, I worried if I'd be able to get everything out of my gut in the pre-race porta-potty visits.
The only other time I had such stress anticipating a race was six or seven years ago going into Ironman Brazil. I remember race morning feeling exhausted from lack of sleep the previous two nights. I wonder if as I've gotten older; I've become less able to handle self imposed stress.
Race day
I was too nervous to eat much solid food. I think it was one Aussie Bite, one Ensure drink, one Gatorade, one protein drink. Additionally, I had a PowerBar Gel 30 minutes prior to the start.
I could tell while queuing up for the start, the wind was really kicking up the swells and chop, so my fears were already starting to play out. Once the gun sounded and we headed out on the longest straight leg of the swim, I was able to settle in and follow someone's feet. Besides the obvious reasons for doing this, I had my own private motive. In the past few years, I've noticed I'm more and more apt to get a panicky spell while in triathlon swims. I get it in my mind, I'm too tired, out of breath and have too far to go. This is especially true if I'm still swimming out, away from shore. So, yesterday I decided not to sight on the buoy on this section of the swim, but rather keep my head in the water and keep calm. I have to report this worked rather well and the one time curiosity got the better of me and I took a peak – I felt the negative sensation start to wash over me. So, head in the water I went. When the buoy was finally reached and it was time to turn back towards shore; the sun was right in my (and everyone's) eyes and it was very confusing as to the correct direction. Suddenly the layout that was in my head didn't make sense bobbing in the choppy water. Some swimmers around me made a sharp 90 degree turn and others turned more like 75 degrees. In by head I was kind of splitting the difference hoping I'd figure things out once I got closer to…. something. As I was swimming roughly towards shore, I think a current may have pushed us further to the left and even more off the (correct) 90 decree angle I should have taken. Once I did get fairly close to one of the sea walls, I stopped and looked for a buoy and could find none. Someone on a surf board yelled and pointed to the correct turn point – way, way to my right. So, before I could turn left and go around the sea wall and into the swim finish, I had to go way right to go around the buoy. So, between the challenging conditions (which seemed to let up in the next hour or two, benefiting some of the later, younger waves) and the misdirection, my swim time was pretty disappointing. I knew it had to be bad as it felt like I was out in the water forever, but I figured, you never know what was going on – maybe most everyone got real screwed up and I could still have a good day.
The bike was pretty non-eventful. I felt like I was flying through the field which always makes it the funnest part of a triathlon for me. I remember thinking my new cyclocross skills were giving me extra confidence carving out super fast turns. I glanced down at my average watts now and then and it seemed like it was usually around 254 – 255. Normally in an Olympic distance race, I don't hold back at all on the bike, but today I held back a tiny little bit extra on the uphill sections. I also tried to use high cadence more than I usually do on the uphills hoping this would help my run. My bike split was about a minute faster than last year and I think I was much more ready to run at the end. I ended up withe the 2nd fastest bike split of the day.
The run starts out with a nasty climb then gently uphill for until around mile 2 or so. From there it's almost all slightly downhill. I wore my watch for the sole purpose of having it for the run. I knew if I could click off some sub-seven minute miles, I'd be motivated and inspired. As it turns out, none of the miles markers were remotely in the correct place so I had no idea how my run was going. My low point on the run was around 3 1/2 miles. I felt myself starting to get discouraged by some of the younger athletes passing me from later wave starts. This doesn't happen to me at any other race (local races) and I found it was taking energy away from me. One guy passed me at a pace I thought I might be able to match, so I decided to try and stay with him. When he heard me on his shoulder, he started encouraging me. It was awesome. We started running side by side and ended up running the rest of the race together, picking up speed the whole way. 6:45 pace for the run – which I am thrilled with. 16th best run for the day.
After finishing and learning my overall time (2:20) and place (15th), I was a bit disappointed, but after letting it sink in, I think I have to be happy with such a solid bike and run.
This morning I finally got a chance to look at the results and saw 10th place was 1:34 in front of me. I easily lost a couple minutes in my swim misdirection but I have no idea how the others in my wave fared with respect to swim navigation. It looks like swim times in general were slow so I think everyone found the swim challenging to one degree or another. I do know one guy died in my wave perhaps from a stress induced heart attack. So, the bottom line is I think I had near the fitness for a top ten but I think I choked a bit under the pressure.
---